Apple brings you a more exciting way to reach your "body goals" with the newest addition to Fitness+. The company introduced their new "artist spotlight" which includes workout routines matched with playlists from your favorite artists.
It is a must that people take better care of their health with the risk of COVID-19 virus. And one way to do so is through a regular workout. People have no excuse anymore in not going to the gym or not having equipment that prohibits them from working out. This is because numerous apps like Fitness+ are already available in the market. And Apple made it more exciting through this new feature.
Fitness+
Apple first launched this app last December 2020 and is continuously adding features to this service. Earlier this year, the company added a Time To Walk Feature for app subscribers. This feature enables users to walk while listening to celebrities or prominent people sharing their stories. TechVisibility also featured this app naming four guests to be included in the episodes. Guests include Dolly Parton, Draymond Green, Shawn Mendes, and Uzo Aduba (Orange is the New Black).
Aside from this, Apple Fitness+ also offers workouts fit for pregnant women and seniors. It caters to people that prefer lower impact activities which in return broaden the app's audience.
The recent WWDC announced this newest feature without the exact details yet. And now, we are getting all the information about this "artist spotlight" update.
Artist Spotlight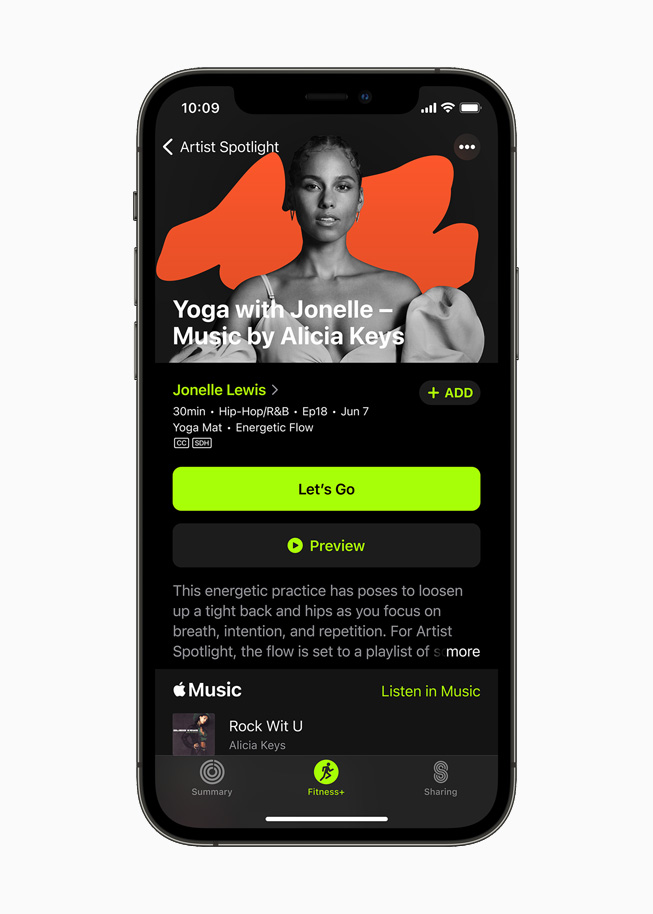 Yahoo reported that the feature will be available this coming Monday, June 28. Aside from that, Time to Walk season 2 episodes will also be released. Fitness+ subscribers can start choosing workouts by its category: HIIT, Yoga, Dance, Strength, Treadmill and Cycling, or by your favorite artists. Each workout features playlists of songs from a particular artist that matches the intensity of the workout. As confirmed by the company, Lady Gaga will be included in the list, aside from Keith Urban, Alicia Keys and Jennifer Lopez.
Once you check on the app, there would be four workouts available initially. This will be followed by four new workouts (one from each artist) every Monday over the next four weeks. Sessions will be in 20 to 30 minute duration and as mentioned, the song matches your workout.
For instance, Alicia Keys is working out "with you". The first (warm-up) or end (cool down) part of the routine may feature a slow paced song like Fallin'. You will then listen to Empire State Of Mind or No One with the middle part as the song plays higher beats per minute. Similar with other workouts, you can go over the details of it to see the full playlist before you start.
Fitness+ and Apple Music
As an advantage to Apple with its competitors, it has the option to direct you from your Fitness+ playlists to your Apple Music. The Artist Spotlight will also have a separate shelf on your app. For non-Fitness+ subscribers, you can still find these playlists and listen to the music while having your workout without an additional cost.
Moreover, all Artist Spotlight workouts are on-demand. This means that you can tune in to these workouts anytime you wish to.
This is something that similar apps like Peloton do not offer. Though they provide a much longer list of artists available like Britney Spears, Calvin Harris, Bon Jovi, BTS, Bob Marley, Billie Eilish, Billy Joel, and Madonna. Still, it is quite certain that more artists will be featured in the Fitness+ feature soon.
What Else To Expect?
Artist Spotlight is not the only thing you should wait for. Also coming this Monday are new workouts led by guest trainer Jeannette Jenkins which is in the HIIT and strength categories.
Additionally, if you were a fan of walking, you might be interested in doing it while listening to the Time To Walk Season 2 episodes. This newest season will debut with Gina Rodriguez. Other personalities to be expected in the episodes are Naomi Campbell, Randall Park, Cynthia Erivo, and Stephen Fry. You will then be more fit and enjoy walking more while learning and feeling motivated through these stories.
If you are not a subscriber yet, you can avail of this service that costs $10 a month and requires an Apple Watch tied to your account.