EV Charging seems to be simple and practical. However, aside from getting to the station, plug-in, and plug-out, there are basic things EV users should know. It is necessary for you to know these "charging etiquettes" for the next time you go to your public charging station.
There has been increasing demand for Electric Vehicles (EVs). Recent studies show that Americans already consider EVs as their next choice of transportation. Companies that offer public charging bays like EVgo, ChargePoint, now LeaseElectricCar.co.uk have created their list of EV Charging etiquette. It seem like these rules are simple and common sense. But drivers seems to ignore most of them.
As posted by The Next Web, here are the 9 guidelines offered by LeaseElectricCar:
1. Park only when Charging
Some drivers, unfortunately, stay even if not needed. It is a basic rule that drivers should only park when they are genuinely charging. Once you are done, move on and find your own parking spot elsewhere. EV drivers constantly find a vacant charging bay and you might just be using it as a parking space.
2. Look after the charge point
It is also a common rule, not just for EV charging points, that you leave the area as you found it. Make sure to put the connector back on when you're done to have it ready for the next driver. It is a common courtesy to make sure to keep the station neat. Moreover, you get to keep the safety of the charging station. Leaving it out may result in a tripping hazard and may cause damage to the connector.
For EVgo drivers, in case you experience a problem with the connector, you may use the "Report an issue" function in the EVgo app. Also, you may call EVgo Customer Support at (877) 494-3833 to report it, 24/7.
3. Ask Nicely And Never Unplug
If you are desperately needing a charge for your EV, it is possible to have it. Go back to the basic rule of interaction which is ask politely. You may ask another EV driver for you to use their bay as soon as they are finished.
In case the EV driver left a note saying that it is okay to unplug, then you may do so if badly needed. If none, it is a must to wait your turn. As the driver is finished charging, it is also advisable for you to leave a note in case you are not going to stay with your vehicle while it charges. Let other EV drivers know whether it is okay to unplug once charging is complete, when it reaches an 80% charge, or if the next driver desperately needs it for an emergency.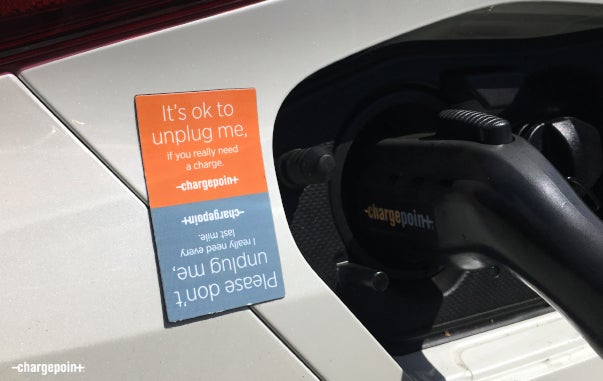 4. Starting your charge
Some EV drivers forget one thing before they leave their cars charging. It is if it is really charging. Once you have your car plugged in, make sure it is actually charging before walking away. There are also certain EVs that have a fast charging option. Plug your vehicles ONLY if you have that function. If not, it may cause problems both to the charging bay and to your vehicle.
5. Do not block the bay
For non-EV drivers or if you drive a petrol or diesel car, it is COMMON sense for you to not block the charging bays. Again, you never know when EV drivers need that spot.
As mentioned, all these guidelines are quite basic and typical. And let's hope that people get to remember these guidelines the next time you are in an EV charging bay.
Related Posts:
Recent Study Explains American Consumer's Perception Towards EVs